Trunk Mat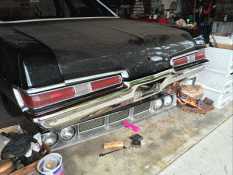 August 2, 2015
While we were working on the bumper I took delivery of a new trunk mat. The first thing I did was put it in the car to check for general fit, which was good. I had the original mat out of the other Polara so I checked them together to see if there were any differences, aside from the holes for the spare mounting bracket the only difference was the new one was a little bigger over the differential.
I still had portions of the original CHP mat that I saved for a template on mounting the accessories. The original was used to locate the hole for the spare tire and the first aid kit, one of the original holes in the floor was still there after the rust repair so I only needed to drill one. I still need to locate the correct fire extinguisher bracket.
I thought now was a good time to start looking at the jack assembly.
Wrapped the day up with getting the taillight harness in and the rear plate bracket.