Wheel Liner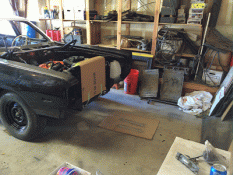 February 28, 2015
With the exhaust being done I felt there was no reason to wait to put the driver side wheel liner in. With the car now in the garage the other direction I can roll it back to get more room to work, rolled back the car was then jacked and the wheel removed. Once again back and forth to my other car counting hardware as many of the parts bags have parts from multiple cars.
Once I identified the size style and count on the hardware I lifted the liner into place. With a little jostling I was able to line up one bolt, from there another till I had them all in, so I thought. I discovered that there were two more up by the battery tray but I have already locked down all the others, luckily I was able to slip the clips in from the back side and put those screws in.
The only real issue was that two of the bolts that went into the frame were not even close to lining up. I did have the frame squared up and this may have had an impact on it.
The battery tray was put in along with its brace. The heat shield puzzled me, I put the clips on and then went to install the panel but the bolts were to long? I pulled the tray and put the clips on the tray and bolted the panel on the other way. It didnít look right and I was sure it went the other way but not with the hardware labeled for it. I cleaning up I was putting the extra hardware away and saw another bag labeled heat shield and it had slightly different bolts. They were a smaller size and one of them was shorted so it wouldnít hit the radiator. So out the battery tray came again and the hardware swapped, now Iím happy.