Exhaust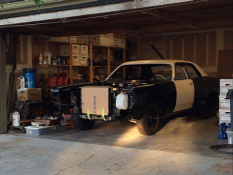 February 13, 2015
Before they started on installing pipe on the car I was able to get a good look under the car. The first thing I noticed was the transmission had shifted on the mount, Iíll need to loosen up the engine mounts and see if I can shift everything.
Initially they wanted the driveshaft in the car but I havenít cleaned it up yet, when they found out I had the original pipes with me they were very happy and were able to proceed without the driveshaft in place. They first tried to install one of the tail pipes that was made by Accurate Exhaust but couldnít get the hanger to line up, turned out I had the hangers (over the axle) on the wrong side. With that corrected they position the pipe with the tip in the same place as the original and then proceeded to move forward. The mufflers were also from Accurate so all the shop had to fabricate were the head pipes.
After they got one side done they moved to the other side, we first had the tip lined up like the other one but it still didnít look right, in further evaluation I noticed that the hanger wasnít as low. It looks like after sitting in the field for 30 years pushing the pipe up caused the rubber on the hanger to have some memory. A spacer was placed holding the pipe in the proper place and the rest was whipped out like the other side.
It took them three hours some pipe and a couple flanges with the total bill not even $200. They were getting ready to close once the car was done and I wasnít able to get any pictures before the rolled the car out so they could shut the shop door.
Once the car is drivable I will take it somewhere that I can put it on a lift and detail the underside.