Bonus Page!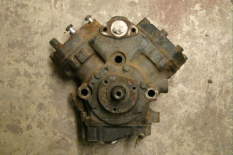 November 23/29, 2014
The original air conditioning compressor was stripped of the parts that I needed to cleanup and transfer, my plan is to order a ready to use replacement that is setup for R-134.
The hoses from this car are rusted and I may need to cleanup some of them but I had one that matched from another car but the end was kinked. I managed to get the kink out, the hose will be furthered cleaned up before it is installed.