September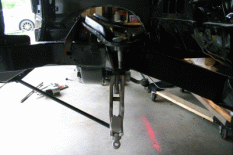 September 13/14, 2014
The last couple days I have been trying to get the front suspension together. I had installed the steering gear, pitman arm and idler a couple weeks ago and had problems getting the upper ball joints in so I put it on hold till I could check on tricks to get them in. Back at it a little wiser, I proceeded and got both ball joints installed and moved on. Everything went like clockwork, piece by piece I continued. The struts proved to be a little difficult as I couldnít get the bar to set so I could tighten the nuts. I finally ended up using a pair of jack stands to hold a socket on the other end of the bar. When I got to the rotors the place that turned them also packed the bearings, a glance inside I saw they also got grease inside so I was good to go. One rotor down and locked in place and then on to the next one, as I pulled the wrapping off it the inside bearing fell out and that was when I noticed there were no grease seals. To late to get seals I packed it up for the evening.
The next day I pick up a pair of seals and pulled the rotor and took care of the oversight. The calipers were installed and next were the hoses, something didnít look right, looks like they will be way to tight. In checking it turns out the hoses I had were for drum brakes and about 1-1/2Ē too short. Wrapped the day up putting the hard lines back in.
I needed a new hold off valve but the replacements have a different bracket and I didnít have it ready to install. I still need to get the sway bar refinished and installed, I did get a pair of NOS frame bushings for the sway bar and they were a little difficult to install.