Whine & Vinegar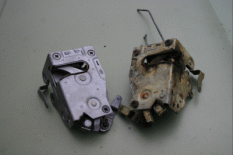 April 18, 2014
Although I havenít been posting updates I have been cleaning parts. Recently I heard about using vinegar to clean parts so I thought Iíd give it a try.
I chose to start out with the door lock mechanism as I didnít think sandblasting was a good idea. I started out with a couple gallons of the easy to get verity and dropped mechanism in and let the set over night, the next day I could see progress so I left them another day. The problem was all the grease from the mechanisms broke down and left a film on the parts so I got another couple gallons and did them again for yet another couple days.
When the parts were removed I went over them with a small wire brush and rinsed them off in water with baking soda in it. I let the parts dry a little then dunked them in a bucket with WD-40 in it and the placed them on a sheet of cardboard. The next day I wiped them down ad was pleased with the results.
I had a second set of mechanisms from the parts car and wanted to compare the two set so I needed to clean them up as well. This time I chose to degrease them in carburetor cleaner first then into the vinegar, again two days in one bucket then another two in a second bucket with clean vinegar. The results were even better and with less scrubbing with the wire brush.