Small Parts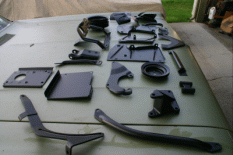 February 11, 2014
First, why all the silence and no updates? $$$ The engine was taken to the machine shop a few months back and I have been saving money to pay for it. Just yesterday I get a call saying that they are working on it!! That is good as Iím right at the point where I probably have the needed cash ready to go, have I said before this entire restoration is a cash project?
Even though I have been saving I still was able to get some parts powder coated, I sent them off to Phoenix Specialty Coatings and once again great customer service and workmanship. This was pretty much everything that was satin black.
I have also been busy cleaning up other small parts and getting primer on them. I have some parts that need some masking or taken apart more before primer along with some that still need to be sandblasted.