Marker/Reflector?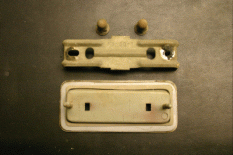 October 27/28, 2013
Where to start? I was looking at the side marker housings to see what needed to be done on them to clean them up and I had more questions than answers. At first I thought these were off my other Polara as the backside was green but was told these were all that green on the backside. Then I noticed that in looking at the other car that these were on the car when originally painted at the factory but there was no evidence of paint on them.
So I decided to move on and paint the area behind the headlights better as this would have been done when the car was originally painted. I masked off the marker holes and the fenders as needed to extend the painted area in a manner that would look like it was all painted at the same time as the front end was together when the factory painted the car. My fenders looked as if they were painted off the car as they were. The area where the fender meets the core support on the inside was void of paint and should have seen paint as it would have been painted when they painted the core support.
In doing that I noticed that very little paint actually made it into the spot where the marker housing went. That being said I cleaned up the brackets and the back of the housings then installed them, all for a part that is difficult to see. I did look at the other car to see how well you could see them with the grill in place.