Let It Shine...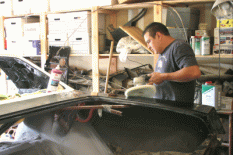 May 29, 2013
Well the buffer came out and two hours later the body shined. First up was a rubbing compound that alone brought out the shine, which was followed up with a polishing glaze compound that just mad the shine pop. Each step progressively removes imperfections left by the previous process resulting in a mirror shine.
Now that the body is done the work will move to the rear doors, each door will be first sanded with the same three different grits of paper followed up with the same polishing process. Once each panel is done it will be installed on the car.
Today marks the 3 year aniversary of the day I first saw this car.