Seeing Red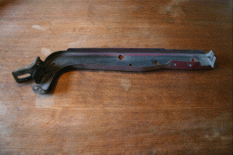 April 8, 2013
Having a green and a red car to compare was nice when it came to trying to figure out what was painted with the body. The parts car is red and it was easy to see what was painted red under the hood and what was painted black. Some of the parts behind the grill were body color then blacked out. The idea was to paint the body color parts nice gloss black using the same paint as the body and then the others the low gloss/satin finish that is typically seen on parts under the hood.
Everything that was looked at was double checked on my other Polara that is green and all items checked out the same on both. There are some interesting differences in what was painted with the body and those that were not. One notable difference was that the hood latch bracket was not painted body color but the support was this was interesting as there is only one bolt holding it on. Another item was the battery tray is painted body color but the support was not and on the police package cars the battery heat shield was not.
Here is a list of items that WERE painted body color.

Fender Braces
Core Support
Hood Latch Support
Battery Tray
Trunk Catch (on my Barracuda it was natural)

Items that were NOT painted body color.

Inner Fenders
Grill Brackets
Hood Latch Bracket
Battery Heat Shield
Battery Support Bracket
Some parts were clearly painted with the body like the core support and the battery tray others had to be looked at through bad coverage on the blackout paint. Things like the heat shield you could see paint on the surface that was protected when mounted so you know it wasn't painted with the car.
On a black car I would be easy to think that everything was just painted with the body or with the same paint and I might have fallen for that had in not been for the other two cars.