The Body Is Painted!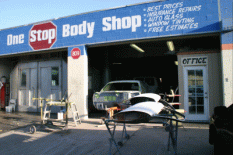 March 23, 2013
Early in the morning the car was towed to the body shop where the booth was that we were using. First thing was masking while we waited for the booth to be cleared. Once the car was in the booth it was again cleaned. Already 10:00 and the sealer is finally going on, now we wait for it to kick off before the white goes on.
After a short wait the white was in the gun, starting to look different. Three coats later the white was done and after a break for lunch it was ready to be masked off. The belt line trim was brought so the masking could be checked then the roof was masked off. The black took much longer than the white with multiple coats going down. Again after a short break the roof masking was removed and the clear applied.
It was a long day and because of the limited space in the booth it may take another couple days to get it all done, the plan is next weekend.