Shades of Gray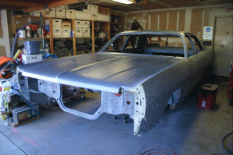 October 27, 2012
For a car that sat in a field for thirty years the roof was in pretty good shape. The only real repair was just above the driver side B-pillar. With that taken care of the rest of the car was primered so finally the heavy work is done.
There are a few areas that need to be addressed before we can call this done, they were skipped over because his welder was not here. The plan is to finish up those issues then block this primmer down and taking care of any small issued that reveals. Once that blocking is done he wants to primer the car again with a different primer and repeat the blocking.
I have been given an idea how long that process should take but I'd rather not disclose it as we are getting into the holiday season and scheduling may become more of an issue. Needless to say the car is very close to being painted.