Get the Lead Out!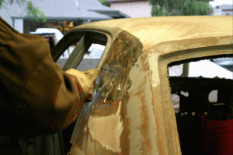 August 22, 2012
This evening was about the c-pillars, even before the lead was removed rust pin holes started to show. With that the plan changed to cut it all out, on the passenger side it turned out to be from the seam up about four inches and one driver side quite a bit more.
Removing the lead was simpler than I thought, a torch was used to soften it and a wire brush to brush it away.
Before all this the trunk rail was finished and the package tray was finally finished.