Finally!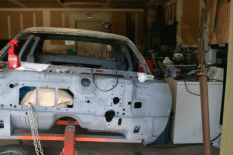 May 6, 2012
Four months later and the exterior rust repair is DONE! The only rust repair still needed to be done is the trunk and there isn't that much there.
The passenger side quarter patch was probably the largest patch outside the rear window that I had on the exterior. Like the other side the piece was cut from a scrapped fender I had and the curve was a very close fit, there really isn't much more to say about it other than let move on to paint prep!
I may have a two car garage but there is little room with all the parts stacked in about a third of it. The car needs to be jockeyed back in forth to get to the other side. Once I lose the spare washer I'll have a little more room and will no longer have to climb through the car to get to tools.