Check That Box Done!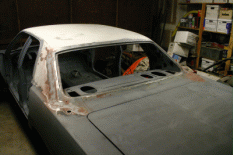 March 18, 2012
WOW, the idea that I can just about call this done is amazing. I still have some fill work to finish and edges to cleanup but the welding, grinding, cutting it out doing over is done. It is hard to believe this is the same car that rolled into this garage 19 months ago.
I still have the lower quarters to patch and some additional work in the trunk, all of which I should have done this week.