Trunk Lid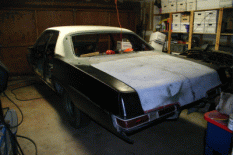 January 30, 2012
I didn't have much time for the car but I was able to get the trunk lid on. The original was to rusty to save so the one from the parts car was used.
Not much to say other than I was able to do it myself even though it is heavy. I put the catch back on the car as well. I'm sure I'll have this off a few more times before this project is done but I like seeing the car with it installed.
January 31, 2012
Had some time before I went to work so I did some sanding on the trunk lid and firewall (pictures to follow).