Brace Yourself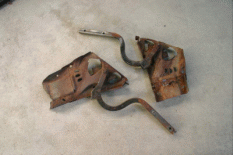 January 27, 2012
Well class is back in session, be it only three hours a week. The good side is some additional tools and advice from the teacher. Last night I looked at what the options are for restoring the braces and hinge supports in the trunk that were removed to facilitate installing the window section.
When the car was first opened up I still had the hinge supports in place and went to tie the hinge arm down and the driver-side support just folded to the floor it was that rusty, the decisions was made to just cut them both out and the fender braces as well. That gave me the clearance to install the replacement window section as it needed to drop into the trunk and then slide up into place.
The supports that were removed were rusty and had some other issues so I chose to use the ones from the parts car that has given much to this project. The driver-side support should go in without much effort as the bottom part that was cut off ended up install in the car to fix that rust issue, the passenger-side isn't that simple. At first I thought I'd salvage the bottom of the original support till I realized it was rusty as well, so it looks like I'll be grafting the bottom piece into the wheel well as I did on the other side.
When I cut out the other braces I figured I'd be reinstalling the same pieces in till I looked at the portions still in the car and saw how rusty some of it was. Now the plan is to work with the pieces removed from the parts car. Again cuts do not necessarily work in my favor on one side. (The parts car was acquired to fix up a different car and was in the process of being cutup to dispose of when I got the CHP car, so that is why cuts do not always work as that wasn't why it was cut in the first place).