Title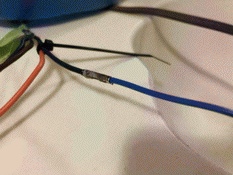 February 5, 2022
Back to the AC harness. I had another harness that was in far better condition but had a cut lead going to the compressor along with much of the wrap on the engine side of the grommet was in bad shape.
The grommet was worked up over the good part of the wrap and the bad wrap removed. The plan was to not worry about the connector that this harness would have had and made the wire to the compressor part of the harness.
With the new wire in place the harness was wrapped to the existing original wrap. The ends were taped and cable ties were put on to insure the tape and wrap stay.
As I get interior parts ready to paint I chose to split the ash tray so I could properly pain the door. The glovebox door will need to be blasted.