Title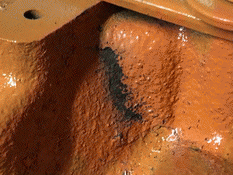 November 7, 2021
Upon further inspection of the crack it turned out to be just the paint, a little cleanup and repainted it was fine.
The frame is all together and ready for the engine and transmission.
The transmission was fitted to the engine. A new neutral safety switch was install and the missing clip for the cable was put on, will get the other clip later.
Adjustment was made to the dipstick tube and installed on the engine.