Title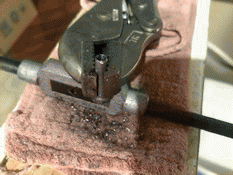 October 16, 2021
I wasn't sure this was going to work and even when working on it I wasn't sure it was. I put the rivets to the brake hold off valve in the vice grips and attempted to drill them so they could be tapped.
I was able to drill and tap them then counter sink the bracket to make the screws more descrete.
The brake lines were clear coated
Lots of parts piling up, parts being powdercoated, parts being painted.