Title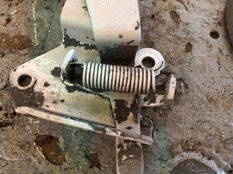 September 19, 2021
Been busy blasting parts, what should be simple has been a workout, looks like everything was coated with something like POR-15. The hood latch required a lot of work scraping with an xacto before blasting it again and again.
Once blasted the parts were primed with a self etching primer.
There are two different styles of dampers used on the 440, I got one initially because I didn't want to be held up looking for the style I wanted. I thought I found one in the other style but it was the same as the one I didn't want, at least it was in better shape.