Title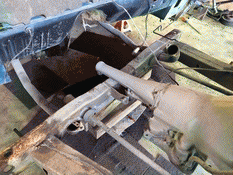 September 6, 2021
Once I jockeyed the frame over the exhaust I was able to move it clear of the body. I still wanted to remove the alternator bracket so it could be refinished but the heater hose nipple was in the way. I didn't waste time I put a tapered rod in it and sized the vice grips before applying the heat, it took a few applications to get it hot enough, even then the nipple tore and twisted, it did come out.
With that out of the way I removed the heater and the rest of the components on the firewall, one of the screws on the heater box had to be cut but overall it went well. There is some rust that will need to be taken care of.
I needed to move the frame to the other side of the garage so there would be access to the firewall, right about the point it was in place it fell off the makeshift dolly it was on dumping what was left of the transmission fluid on the floor.
The throttle bracket doesn't appear to have been painted or it was replaced with a new one? It'll probably get painted with the engine.