Parts Run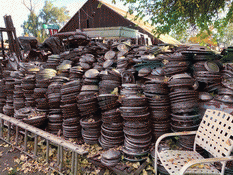 December 5, 2020
On the way to my friends place to get the exhaust manifolds and steering wheel we stopped at a couple yards to look for parts. The first yard was more about getting some wheels for the friend we were heading to. That yard was more about 50s cars and we were able to get the wheels he needed.
The next yard had a 69 Polara 500 we heard about, left there with a small pile of parts, could have got more but ran out of time.
On to my friend's house where he has a 1962 Chrysler police package car he is working on.