Assessment (3)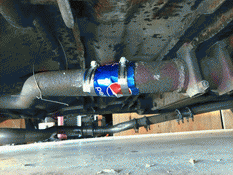 November 15, 2020
Still looking for exhaust manifolds I patched the exhaust with hopes of making it less embarrassing. I put some parts store exhaust patch tape on it then wrapped a soda can over it with hopes of preventing it from a blowout.
We had planned on installing the new gas tank but ran out of time, I however did start draining the tank, with the gunked up filter I had expected the gas to come out looking more like tea, it was clear.
Started on the heater hoses and heater control valve, realized I didn't have the valve at the house, too late to get to storage.
Closed up the day getting reference pictures of some of the parts I need to track down.