A Little Backstory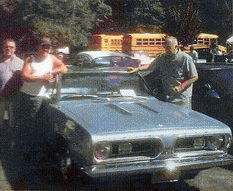 The car was first sold new at S.L Savidge in Seattle Washington on June 14, 1967, that is about four weeks after its scheduled build date of May 19. The first part of its life is unknown through 1977, it 1978 it was sold to my friend's father in Oregon who had it up to his passing in 2012. It is unknown how the car went from Seattle to Portland. Initially the stayed in Oregon for a few years with one of the brothers and eventually in 2015 my friend got the car.
Right away the car was entered in multiple rallies where it was put to the test in the hills and mountains of northern California. During the time he had the car he was constantly doing thing to the car some small and some not so small, there were mechanical upgrade to make the car more roadworthy and improve its performance in the rallies. Some of the improvements were more esthetic like carpet and trim.
When he first got the car his other car a 1967 Barracuda fastback was in the shop for some bodywork and paint, which provided him with the space and resources for this car.