Exhaust Accessment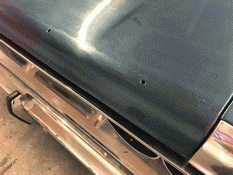 January 10, 2021
Out of curiosity I pulled the front trim off the hood and to my surprise there were studs through the hood.
One thing that came to mind was that the engine mounts looked small, measured, yup, 1/4", that might make the difference I need.
The recycled exhaust tip hangers were not cutting it so I found some parts store ones that would do the job.